Customers come first at Wallace Farms.
Over the years we have developed a company culture that is focused on responding quickly to customer needs and focusing on quality. While some farms have rigid schedules and are production driven, we are the opposite. We harvest what we sell - and not the other way around. We hate to say no – and we almost never do!
The key to our responsiveness and quality control is our people. Wallace Farms has a very low employee turnover rate because we treat our people extremely well. Most of our employees are full time. They have broad skill sets and we train them to share overlapping responsibilities. Variety and packaging changes happen smoothly. Each of our employees has had the opportunity to sort potatoes, and they know the importance of quality. They take pride in the finished product.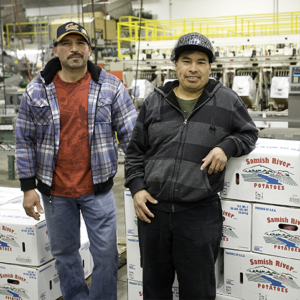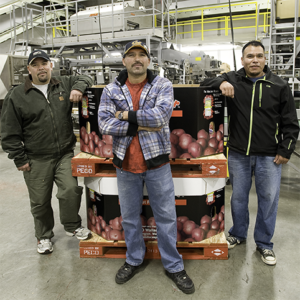 On any given day you will find members of the Wallace family taking direct hands-on responsibility. While at many farms the owners are nowhere to be seen, we are here. It is very important for us to have satisfied customers and to build on the valued relationships that have existed for decades.
Call us. We look forward to saying yes to your critical supply requirements.
 Production
Wallace Farms is a vertically-integrated potato farm. We grow all of the potatoes we sell. We wash, sort and pack our potatoes in our state-of-the-art packaging facility in the Skagit Valley. Designed to comply with the highest food safety standards, the plant is engineered for  high production efficiency  while maintaining consistently high quality  standards.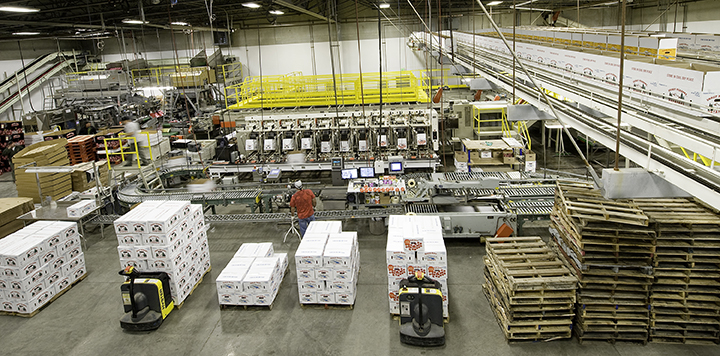 Our packaging operation is designed to be highly flexible: the production team can switch from one label and package size to another on the fly, and integrate special runs of private labeled product to meet customer demands. We can simultaneously pack two different varieties of potatoes into as many as six carton labels, RPCs, and  two poly bag labels. This flexibility and rapid response capability allows us to take an order in the morning for a product not in inventory and  pack and ship it that same day. The advantage to our customers is simple: there is less lead time required for an order, the various products for an order do not have to be accumulated over a long time period and the product is shipped fresher. And less time spent on our floor means that the potatoes will have more shelf life remaining after they are delivered.